Flats for rent and for sale in Aachen
The property market for flats in Aachen is characterised by a feature that has become rare in large cities: it is relatively relaxed. In the core areas of the city center there is therefore a sufficient supply of flats for rent. In the outskirts, on the other hand, there is a much smaller contingent of flats that are priced higher and that you can both rent and buy. John Doe Real Estate offers you a diverse selection of flats in Aachen in its portfolio - for rent and for sale.
Flats in the city center of Aachen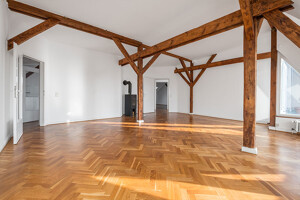 Flats in modernised old buildings with high ceilings, in core-renovated townhouses steeped in history or converted attic flats - in our portfolio you will find a large selection of 1- to 3-/4-room flats located directly in Aachen's core area. Some of the city center flats have newly fitted kitchens, parquet or laminate flooring and a loggia and/or balcony.
Contact us as soon as possible if you would like to rent or buy a flat from our city center portfolio.
Exclusivity with uninterrupted views over the hilly landscape
Their particularly exposed location directly in the middle of large green spaces and the direct connection to local recreation areas gives flats in the eastern districts of Eilendorf and Brand as well as in the southern tip with Kornelimünster and Walheim an outstanding position. The distinctive topography of the city and region - due to its proximity to the northern Eifel - has shaped a landscape with many hills, valleys and streams - and many houses and flats are located on such hills, guaranteeing unobstructed views for miles around. The settlement structure here is open and spacious, the ambience almost idyllic.
With upscale furnishings and a well-established all-round infrastructure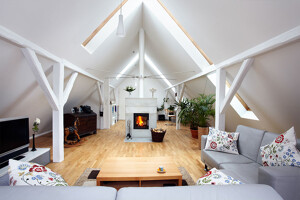 Around the actual core of the city center of Aachen, almost all flats that we offer for sale have the "upscale" furnishing feature.
Depending on their size and layout, the 2-, 3- and 4-room flats have a separate guest toilet, generally come with a garden or spacious terrace and are heated with underfloor heating.
The windows are often triple-glazed and equipped with electric shutters, real wood parquet flooring provides a homely flair. Especially in the Soers, Westpark and Steinebrück districts, an established infrastructure with grocery shops, pharmacies and doctors provides an authentic flair and a certain feeling of good neighbourliness. Many flats are barrier-free and are therefore also suitable as an investment in one's own old-age provision.
New housing developments - closeness to nature as a planning premise
In Aachen, new buildings are being constructed with great care. Firstly, because there is no housing shortage, and secondly, it is the declared aim of the city planners to create a symbiosis of living, working and social life in close-to-nature surroundings. If you are interested in a flat in Aachen, we look forward to hearing from you.